Traditional Punjabi Sarson Ka Saag-Makki Ki Roti.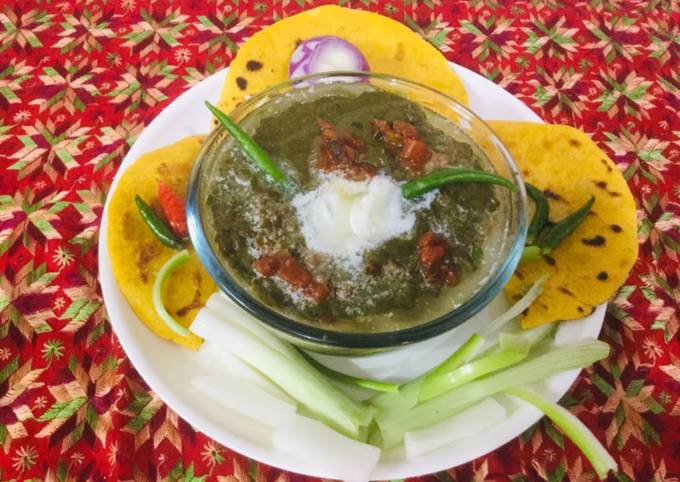 You can have Traditional Punjabi Sarson Ka Saag-Makki Ki Roti using 23 ingredients and 12 steps. Here is how you cook that.
Ingredients of Traditional Punjabi Sarson Ka Saag-Makki Ki Roti
You need of Mustard Greens/ Sarson.
It's of Spinach/ Palak.
It's of Radish Greens.
You need of Bathua.
You need of Fenugreek Leaves/ Methi.
You need of Tomato Chopped.
You need of Onion Chopped.
Prepare of Ginger.
Prepare of Garlic Chopped.
Prepare of Green Chilli Chopped.
Prepare of Red Chilli Powder.
Prepare of Hing.
You need of Salt.
You need of For tempering.
You need of Makki ka Atta.
Prepare of homemade butter.
It's of Onion Finely Chopped.
Prepare of Garlic Smashed.
Prepare of For Makki Ki Rotis.
You need of Makki ka Atta/ Corn Meal.
Prepare of Salt.
It's of vegetables oil.
Prepare of butter.
Traditional Punjabi Sarson Ka Saag-Makki Ki Roti step by step
Clean all the leaves and wash them thoroughly. One good way to wash your green is to fill a large pot with water. Dip your greens in water. Let it stay for a minute. All the impurities will settle down. Gently take out the leaves without disturbing the water. Repeat the process 2-3 times..
Chop the greens and add them in a pressure cooker. Add tomato, onion, ginger, garlic, radish, green chilli, salt and a cup of water. Pressure cook for 20-25 minutes on low heat..
Remove the pressure cooker from heat and let it cool. Once cooled, blend the greens in a blender to make a coarse paste or according to your own taste..
Dissolve makke ka atta in little water and add it in the cooker. Add red chilli powder and hing and cook for 3-5 minutes..
For tempering, heat ghee in a pan. Add onion and garlic and fry till golden brown.Add chopped tomatoes and sauté well till ghee separates..
Pour the tadka over the saag..
Add homemade butter..
For Makki ki rotis….Mix makki ka atta, salt and vegetable oil in a bowl with your finger tips till everything is nicely combined. Add warm water and knead a soft dough. This dough will behave different than your regular wheat flour dough as their is no gluten in maize flour..
Heat a griddle. Take a sheet of butter paper. Divide the dough in 8-10 equal parts. take one part of the dough and add a few more drops of water to it and knead once more for a few seconds..
Keep the dough ball on the butter paper. Gently roll the dough in to 6-7 inch disc. Remove the butter paper and flip the roti on the hot griddle..
Cook the roti from both the sides till brown spots appear.Cook from both the sides till nicely browned..
Apply butter on top. Serve hot with white butter and sarson ka saag..
I Love to Cooking and I am the chef of Champion Restaurant…