Light & creamy vegan lemon pesto.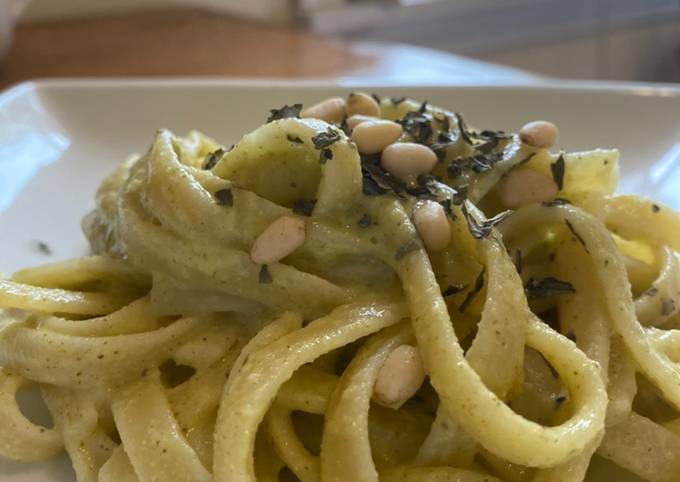 You can cook Light & creamy vegan lemon pesto using 11 ingredients and 5 steps. Here is how you achieve it.
Ingredients of Light & creamy vegan lemon pesto
It's 4 oz of whole wheat fettuccine (or other pasta).
You need 1 cup of broccoli, boiled.
You need 1/4 cup of coconut milk (other milk or veg broth will probably work).
Prepare 1 tbs of olive oil.
Prepare 2 tbs of pasta water.
You need of juice of 1/2 lemon.
It's 1 tsp of pine nuts.
Prepare 1 tsp of dried basil, or fresh.
Prepare 1 of clove, garlic.
It's 1 tsp of nutritional yeast.
It's of salt & pepper to taste.
Light & creamy vegan lemon pesto step by step
Cook pasta according to package instructions. Reserve about two tablespoons of the water, then drain and rinse with cold water. Set aside..
Boil the broccoli for about 5 minutes to soften. If you have a strong food processor, you might be able to skip this..
Add broccoli and remaining ingredients to a blender. Blend until smooth..
Add sauce from blender to a pot to warm up. When warmed, add the pasta. You may have leftover sauce..
Plate and garnish with pine nuts and basil. You may wish to add more salt, pepper, or lemon. I drizzled with a bit of white truffle oil..
Welcome to sindu.web.id! Enjoy reading