Manakish.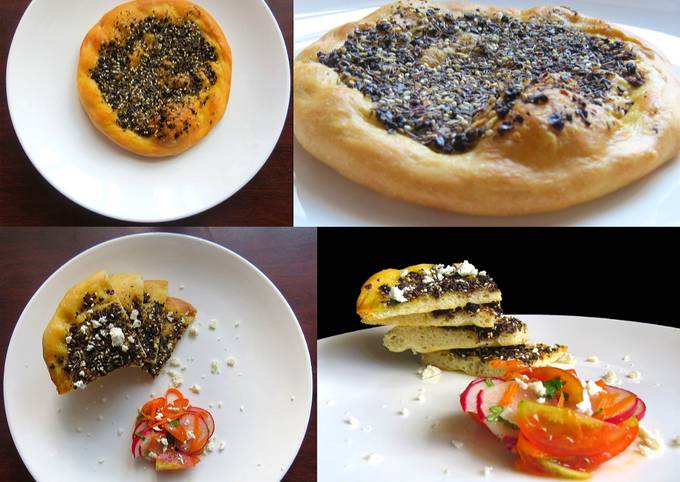 You can have Manakish using 25 ingredients and 12 steps. Here is how you achieve that.
Ingredients of Manakish
Prepare of Manakish:.
It's of Lukewarm Water,.
It's of Active Instant Yeast, 1 + 1/8 TSP.
You need of Granulated Sugar,.
It's of Unbleached All Purpose Flour,.
It's of Sea Salt,.
You need of Olive Oil, 2 TBSP + More For Greasing.
Prepare of Za'atar:.
Prepare of Sumac,.
Prepare of Extra Virgin Olive Oil,.
You need of Dried Thyme,.
Prepare of Red Radish Thinly Sliced,.
You need of Dried Oregano,.
You need of Carrot Shredded,.
Prepare of Black Sesame Seeds,.
Prepare of Coriander Finely Minced,.
It's of White Sesame Seeds,.
It's of Cherry Tomatoes Quatered,.
Prepare of Sea Salt,.
Prepare of Extra Virgin Olive Oil, A Drizzle.
It's of Sea Salt,.
It's of Salad:.
It's of Black Pepper,.
It's of Fresh Lemon Juice,.
You need of Vegan Feta Cheese, A Few Pinches.
Manakish instructions
Prepare the dough. In a bowl, add water, yeast and sugar. *The water has to be lukewarm If it is too warm, it will kill the yeast.* Stir to dissolve the yeast and sugar..
Set aside for 10 mins. In another large bowl, add flour and salt. Stir to combine well. Create a well in the middle..
By now the yeast should become foamy. Gradually, pour the yeast mixture into the well while still mixing with your other hand or spatula. Add in the olive oil. Combine the mixture well until it becomes a dough. You can do this by hand or a spatula..
Once it becomes a dough, knead the dough inside the bowl until all the nooks and crannies of flour is kneaded into the dough, about 3 to 4 mins. Transfer the dough onto a working surface and continue kneading for another 5 to 6 mins. The dough should be soft, smooth and tacky, but not sticky. It should pass the "window-pane" test..
If the dough is too dry, add in water, 1 TBSP at a time. If the dough is too sticky, add in flour, 1 TBSP at a time. Form the dough into a ball. Lightly grease the dough ball with olive oil and transfer back into the bowl. Cover with cling film and set aside for 2 hrs or until doubled in size..
While the dough is raising, prepare za'atar. In a bowl, combine all the ingredients together. Mix until well combined. Set aside..
Prepare the salad. In a bowl, toss everything together, except the vegan feta cheese. Toss until well combined. Set aside in the fridge until ready to use..
Prepare the manakish. After it has doubled in size, divide into 4 equal dough balls with a weighing scale. Cover with a damp lint free kitchen towel, lightly grease the dough balls with olive oil and set aside to rise for 30 mins for the 2nd raise. Preheat oven to 205 degree celsius or 400 fahrenheit..
Lightly grease a baking tray with olive oil. Lay parchment paper over the tray. Transfer a dough ball onto the tray. Using fingers to press the dough ball and form a 5" round disc. Don't need to be a perfect circle..
Lastly press the disc with fingers to form dimples. Spread 1 heaped TBSP of za'atar over the dough leaving a 1/8 inch border along the edge. Repeat the process for the remaining dough balls. Do not crowd the baking tray..
Bake the manakish in batches if have to. Wack into the oven ad bake for about 15 to 20 mins or until is golden brown and crisp brown at the bottom. The za'atar should be still liquidy..
Remove from oven and set aside on a wire cooling rack to cool down to allow the za'atar to soak into the dough, for about 15 mins. Serve with salad on the side. Sprinkle pinches of vegan feta cheese over the top. Serve immediately..
I Love to Cooking and I am the chef of Champion Restaurant…