Yee Sang.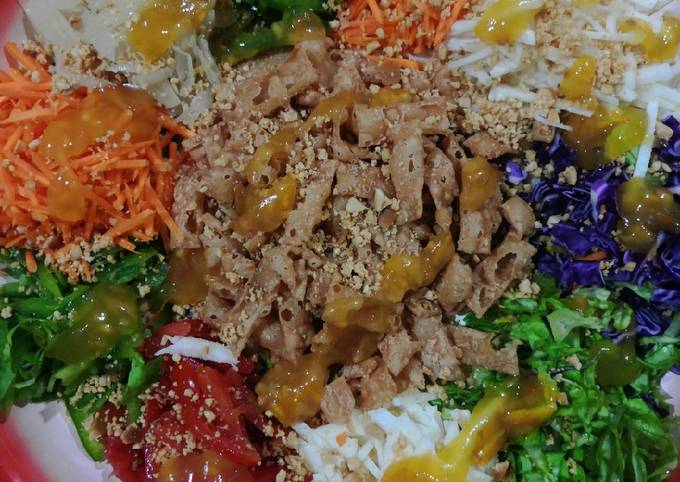 You can cook Yee Sang using 19 ingredients and 5 steps. Here is how you cook that.
Ingredients of Yee Sang
You need of Dressing.
It's 1 bottle of Asam Plum Sauce.
You need 1 bottle of orange marmalade.
It's of Sugar to taste.
It's of Salt to tase.
It's of Water to adjust consistency.
It's of Vegetables (sliced into thin strips).
It's 1 of Japanese cucumber.
You need 1 of green, red, and orange bell pepper.
It's 1 of turnip.
Prepare 1 of carrot.
Prepare 1/2 of purple cabbage.
You need of Pomelo.
Prepare 2 of Mandarin oranges.
Prepare 1 of small beetroot.
It's of Pickled leeks.
Prepare of Crushed peanuts.
You need of Sesame seeds.
Prepare slices of Salmon.
Yee Sang instructions
Mix plum sauce and orange marmalade in a pot and let it simmer, based on 1:1 ratio. Add salt and sugar to taste. Once taste is ok, turn off heat and set aside..
Roast peanuts in small pan/wok. Crush in a pestle mortar, set aside..
Thin slice into strips all of the above vegetables..
Once the vegetables are sliced, arrange them into desired pattern on a plate..
Drizzle generous helpings of the dressing, then sprinkle crushed peanuts and sesame seeds on top. Add salmon slices if you want. Food is ready to be served!.
I Love to Cooking and I am the chef of Champion Restaurant…